Mission and History
Mission
The mission of the FSMTB is to support its member boards in their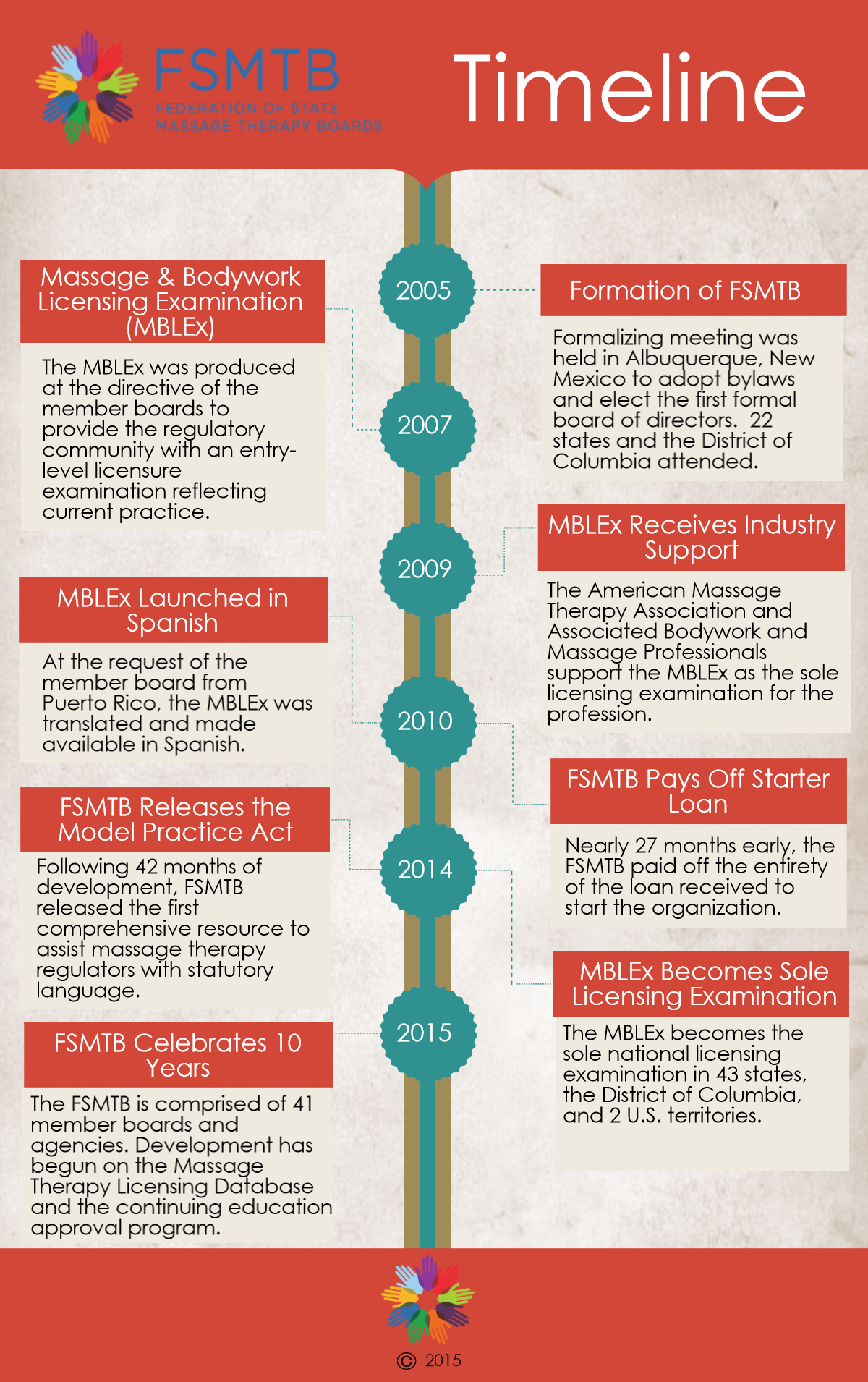 work to ensure that the practice of massage therapy is provided to the public in a safe and effective manner. In carrying out this mission, the FSMTB shall:
Facilitate communication among member boards and provide a forum for the exchange of information and experience
Provide education, services, and guidance to member boards that help them fulfill their statutory, professional, public, and ethical obligations
Support efforts among member boards to establish compatible requirements and cooperative procedures for the legal regulation of massage therapists, in order to facilitate professional mobility and to simplify and standardize the licensing process
Ensure the provision of a valid, reliable licensing examination to determine entry-level competence
Improve the standards of massage therapy education, licensure, and practice through cooperation with entities that share this objective, including other massage therapy organizations, accrediting agencies, governmental bodies, and groups whose areas of interest may coincide with those of member boards
Represent the interests of its member boards in matters consistent with the scope of the bylaws
 History
In early 2005 Associated Bodywork and Massage Professionals (ABMP) convened a meeting of massage regulators and educators to re-energize a former "Alliance" of the massage regulatory community. Attended by representatives from seven regulated states, along with educators from around the country, this group recognized the need to establish an organization that could bring the regulatory community together in its mission of public protection. Importantly, the most significant concerns were the need for the provision of a valid and reliable licensing exam and the desire to bring commonality in licensing requirements to assist with professional mobility. The commitment to reenergize this former alliance came to fruition with the formation of an interim organization. The Federation of State Massage Therapy Boards (FSMTB) formed an interim board consisting of all the regulators in attendance. This interim board was charged with conducting research into other like organizations, reaching out to the community for feedback, drafting bylaws and planning a meeting to formally establish the organization. In September 2005, the FSMTB held its formalizing meeting in Albuquerque, New Mexico prior to the annual American Massage Therapy Association (AMTA) convention. The meeting was attended by 22 states and the District of Columbia. During this landmark event, bylaws were unanimously adopted and the first formal board was elected. Additionally, dialogue arising from the meeting suggested that three key issues were of utmost concern for the massage therapy regulatory community:
The need for consistent scopes of practice and entry level standards across the country
The need for a valid and reliable licensing exam that would be accepted by all jurisdictions
The need for a common database with licensing and disciplinary information and the ability to store critical documents
Since the formational meeting in September 2005, the volunteer Board of Directors and committee members have continued to diligently work to establish a foundation upon which to build and advance the organization to carry out the desires of the member states.