Annual Meeting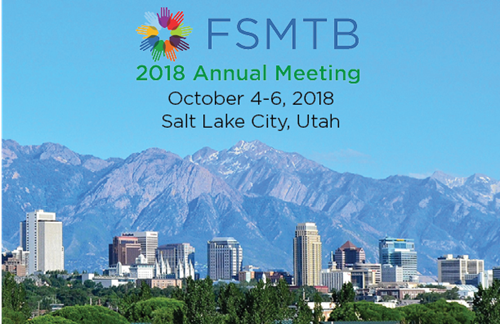 2018 Annual Meeting • Salt Lake City, Utah
Marriott City Center
October 4-6, 2018

View the 2018 Annual Meeting agenda
View the 2018 Resolutions and Bylaw Amendments
Registration Fees:

Delegate (designated representative of State Board/Agency) ................ $0
Non-Delegate Members of State Board/Agencies and Staff .................... $350
Non-Members ............................................................................................................................ $650
To guarantee accommodations, FSMTB must receive all registrations prior to September 12. 
Accommodations:
Salt Lake City Marriott City Center
220 South State Street
Salt Lake City, UT 84111
$159/night
Make your reservation here. 
Check out nearby entertainment via Visit Salt Lake.
Transportation:
Parking
If you plan to drive to the Annual Meeting, parking will be available at the hotel. Please see below for parking rates.
| | | |
| --- | --- | --- |
|   | Self-parking | Valet parking |
| Delegates | $14/day* | $18/day |
| Non-delegates | $14/day | $18/day |
*FSMTB will reimburse delegates for self-parking only.

Airport Transportation
FSMTB has identified optimal pricing for airport transfers between Salt Lake City International Airport and the Marriott City Center. 
MyShuttle service is priced at $60 roundtrip. Please make your reservations online here. 

Alternatively, you may choose any transportation or rideshare service available in the Salt Lake City area. FSMTB will reimburse delegates up to $72 (including driver gratuity) for trips to and from the Salt Lake City airport. 

Delegate Center
Reservations:
Delegates can request to have FSMTB make their travel arrangements. To do so, please contact Laura Simmons at lsimmons@fsmtb.org. Please include the following information:

Your name as it appears on your ID

Date of birth

A contact number you will use while traveling

Your departing airport

Preferred departure time frame  
Reimbursement:
To ensure that each member board/agency has a voice and a vote, FSMTB pays for one voting Delegate from each Member Board to attend the annual meeting.

Please read the Expense Reimbursement Policy to ensure that you understand reimbursement procedures and stipulations.
Expense Report Form
Resolutions and Bylaw Amendments:

The delegate assembly of member boards provides direction and policy for the Federation. FSMTB will accept resolutions and bylaw amendments at any time in accordance with FSMTB Bylaws and Policies.

Resolution Form
Resolution Policy
FSMTB Bylaws
Two resolutions and two bylaw amendments have been submitted for consideration by the membership and voting by the delegate assembly. The FSMTB Policy Committee has provided recommendations to the membership.

Resolution 1
Resolution 2
Bylaw Amendment 1
Bylaw Amendment 2
FSMTB Policy Committee Recommendations

Nominations Information:

The FSMTB Nominating Committee is seeking qualified candidates to serve on the Board of Directors and the 2019 Nominating Committee. These elections will occur at the 2018 Annual Meeting.

For more information, please click here. 

*While the FSMTB Annual Meeting is geared toward the regulatory community, professional educators and the community at large who support FSMTB activities are welcome to attend. Please note that FSMTB Member Boards receive priority registration. FSMTB reserves the right to limit attendance to interested parties in order to accommodate FSMTB members.